What is the SJRA Club QSO Party?
When the SJRA turned 100 years old, the club QSO party was created to celebrate the club's 100th anniversary. All members of the SJRA signed their Call Signs / 100 for the entire year of 2016. The contest ran for 7 days so that it would include the official anniversary date of June 16th.
Our members have been having so much fun with the QSO party that we invited all clubs to celebrate their age. It has become a special event station environment. It is an opportunity to share club information with other radio amateurs. Members of other clubs would sign their callsign with /## the age of the club they are affiliated with. We encourage clubs to put their club stations on the air as large coordinated efforts.
Please join us to celebrate your radio club's age and history as we celebrate our own.
Questions? Email us at clubQSO@sjra.org
To register your club with our QSO Party, use the form below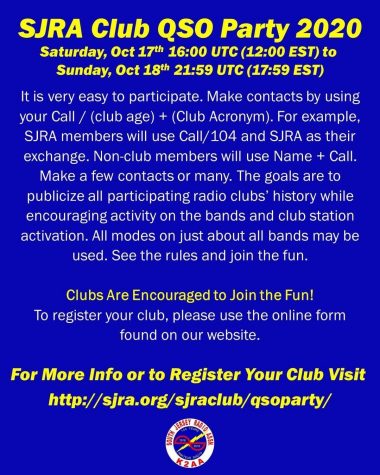 Use the forms below to submit your individual or club scores.
Club QSO Party Registered Clubs and Results
Individual Submissions and Results
How to Set Up N1MM Logger Plus
We suggest the following settings in N1MM Plus for participating in the Club QSO Party:
Note: N1MM will not be able to score this correctly. All we ask is a summary of your results. Results can be submitted using the forms listed above.
Instructions:
In the main N1MM window, click on "file".
It is recommended to set up a new database, you can use an existing one if you choose.
Click on "Contest", and start a new contest using the "DX" contest category from the list.
Set up your station data under the "Config" window.
Press CTRL-O (Control- O) and enter your callsign if operating as yourself or your club's callsign if operating as a club station.
You may keep the same log because the stations you contact count as your own.
At the end of the contest count the stations signing /### and those that are not.
Visit this page to see any club stations worked for bonus points. List the bonus stations contacted in your submission.
Use the appropriate results submission form for yourself or your club.
Have fun and good luck!!